Five key benefits of
digital audience engagement

for visitor attractions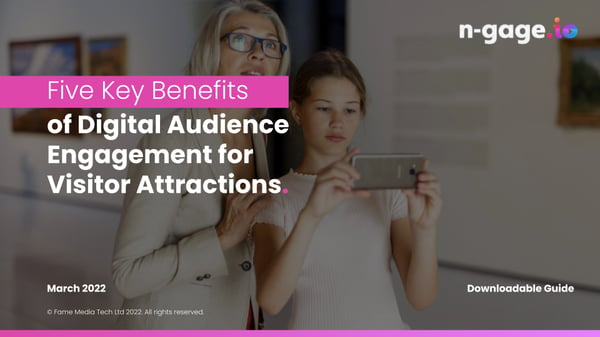 Download our free guide.

Everyone is talking 'digital' these days. But what does digital, in this case, SaaS (Software as a Service), mean to the attractions and experiences sector? For some, it's about streamlining processes and reducing the reliance on paper, in exchange for cloud-hosted storage facilities, for others, it's about expanding the reach of the marketing message to increase footfall and grow audiences. Going digital also means the ability to gain valuable data insights about visitors and audiences, to improve and enhance the way they operate. This simplistic view only touches on the impact digital has – on just about any sector, the museum, zoo, cultural, heritage, stadium experience and more.

​Download our Five Key Benefits Guide for going digital to drive visitor engagement, gain valuable insights and improve revenues.
Fill in the form below to download
Request a demo
Request a free demo of the n-gage.io operator platform and mobile-web application. Onboard a free 90 day pilot within minutes.
Request a Demo